In this body of work, I continue to explore a theme that has situated itself within my artistic practice for many years. Expectations, cultural, especially those demanded of women—which more often than not center on their obligation to bear and nurture children.
For this exhibition, I use digital technology to compose the form — large-scale (40x40 each) ink-jet printed collages that could be mistaken for product branding pieces.
Within digital design software there are numerous filters and effects that allow the designer to morph and shape images and text to expand on their inherent meanings. (I found it ironic that filters are also used in a social sense when talking about filtering one's language or one's intentions.
Easel-painting with oils on canvas is my traditional medium. In these pieces, I have continued this tradition — flat, two-dimensional surfaces, prescribed color palette, and forms. What has changed is the application. Working digitally inspires rapid iterations of the composition and new ways of envisioning the prescribed lexicon of shapes, geometric diagrams, and semantic marks.
Susanna began several years ago. She represents the concept/theme - society places expectations upon her, she submits herself, and yet, she is still not good enough. It takes a miracle to save her. It is the establishing of a cultural norm through her experience that becomes a regressive moment for the advancement of female autonomy.
Susanna and the Elders is a story in the biblical tradition that has been the subject for numerous painters -- male and female -- from the Renaissance until today. Her story is universal and timeless, and her body continues to serve as a graphic medium through which artists can explore the expectations placed upon women by the cultures in which they live and ultimately know themselves to be.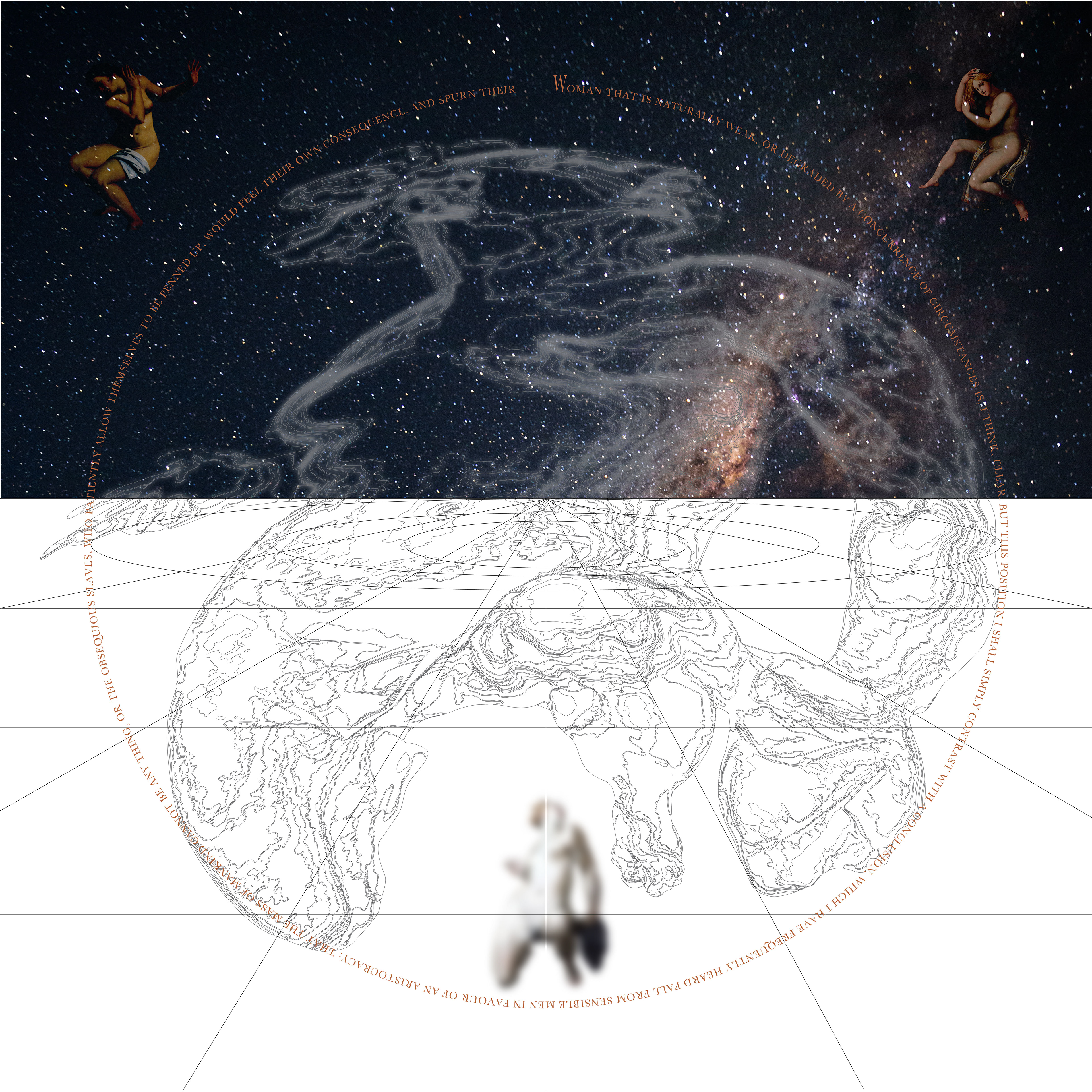 All images are copyright-free. Images are archival latex paint inkjet printed on Briteline 2201 matte vinyl. Printing by Tyson's Model City Glass and Natasha Day. All image labels include the contributions of numerous artists. Select an image to view the label.